Support the Industry Advocacy Fund
The BANCF Industry Advocacy Fund has been our shield for over 16 years, safeguarding our members' ability to do business in our wonderful community. It's powered by the generous donations of our members (our incredible Benefactors), some of whom have given anywhere from $500 to $5,000 each year, in addition to their annual dues.
What does this fund do? It empowers us to tackle critical issues, invest in research, and battle against unnecessary regulations. Since 2009, we've joined forces with the Chamber of Commerce, the Association of Realtors, and other community groups to advocate for policies that foster economic growth and development in our beloved community.
But here's the deal – to always have the resources to stand up for our industry, we need your continued support as a BANCF Benefactor.
Your contribution to the Industry Advocacy Fund is an investment in the future of our industry.
Accomplishments We've Achieved:
Over the years, the BANCF Industry Advocacy Fund has spearheaded a range of impactful initiatives, including:
Successful Legal Challenge: We navigated a legal challenge against the Alachua County Comprehensive Plan, ultimately reaching a mediated settlement. This achievement was made possible through generous Benefactor contributions, which funded extensive research, engaged expert consultants, and enlisted the expertise of a highly regarded land use attorney.
In-Depth Market Research: Our commitment to understanding our community's needs led us to conduct comprehensive economic and market research. We commissioned professional polls and convened focus groups to gain valuable insights into public opinions on growth-related issues.
Insightful Economic Analysis: We collaborated with renowned economists, including Dr. David Denslow from the University of Florida, to produce a study highlighting a significant finding. This study revealed that the average new household in Alachua County was burdened with more than $3,000 in excess infrastructure costs.
Effective Advocacy Against Impact Fee Increases: Through Benefactor contributions, we fought against increases in impact fees on multiple fronts. Our efforts involved expert consultants and attorneys to ensure accurate fee calculations. To raise public awareness, we partnered with the Chamber of Commerce and Realtors to launch a compelling TV and radio campaign illustrating the detrimental impact of drastic fee hikes on our community and economy.
Strengthened Collaborations: We strengthened our ties with the Chamber of Commerce and the Association of Realtors by jointly hiring a Public Policy Director. This strategic move allowed us to take a more proactive stance on governmental issues and fostered a closer coalition between our organizations.
Public Leadership Institute: In a bid to nurture future leaders with a business-oriented perspective, we played a pivotal role in developing and hosting the Public Leadership Institute. This initiative aimed to educate and prepare aspiring candidates for local and state offices in our community.
Advocacy for Springs Protection Legislation: We worked closely with the Florida Home Builders Association to advocate for crucial Springs Protection Legislation that directly impacted Alachua County.
Here is a list of our Benefactors:
Only through continued Benefactor contributions will we be able to always have the resources to address specific issues to protect our
industry.
Thank you for considering becoming a BANCF Benefactor by contributing to the Industry Advocacy Fund.
You can use the QR code below for a one time
annual payment.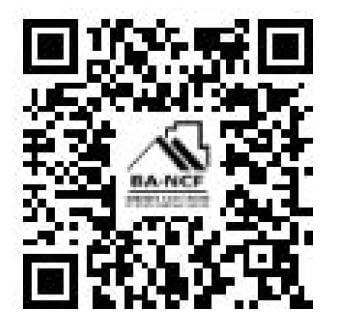 For monthly or quarterly payments, please contact Holly Wilson at holly@bancf.com or call 352-372-5649.
Platinum Benefactor:
☐ $5,000 (one annual payment)
☐ $1,250/quarter
☐ $417/month (credit card only)
Gold Benefactor:
☐ $2,500 (one annual payment)
☐ $625/quarter
☐ $209/month (credit card only)
Silver Benefactor:
☐ $1,000 (one annual payment)
☐ $250/quarter
☐ $84/month (credit card only)
Bronze Benefactor:
☐ $500 (one annual payment)
☐ $125/quarter
☐ $42/month (credit card only)
Supporting Benefactor:
☐ $250 (one annual payment)
As a token of our appreciation, all Benefactors will receive special recognition at our events and will proudly wear Benefactor Badges. Platinum Benefactors will enjoy the perk of a reserved table at every Membership Meeting.